Parking and shuttle buses
Thank you in advance for your traffic and parking cooperation on Walk day! As you make your way to our Golden Valley location, please be alert and pay close attention to event signage.
Only authorized vehicles will be allowed to turn onto Meadow Lane from Highway 55 on Saturday, May 2.
If you don't have a parking pass, you must park in one of the off-site parking lots.
If you park in a residential area that has No Parking signs posted, you will be ticketed.
We do offer handicapped parking passes upon request. Please email walk@animalhumanesociety.org by noon on Friday, May 1 to receive your handicapped parking pass.
General parking
General event parking is available at five off-site parking lots (no parking pass required). Complimentary shuttle buses will transport walkers between these parking lots and the event grounds throughout the day. Shuttle buses will run every 15 minutes between 7:45 a.m. and 2 p.m.
Pets are welcome on the shuttle buses. Please remember to keep all critters under control and dogs on a short leash. All animals must have up-to-date vaccinations and rabies shots and must be under the control of an adult or have direct adult supervision.
New park and rides this year!
Off-site parking and shuttle buses are located at: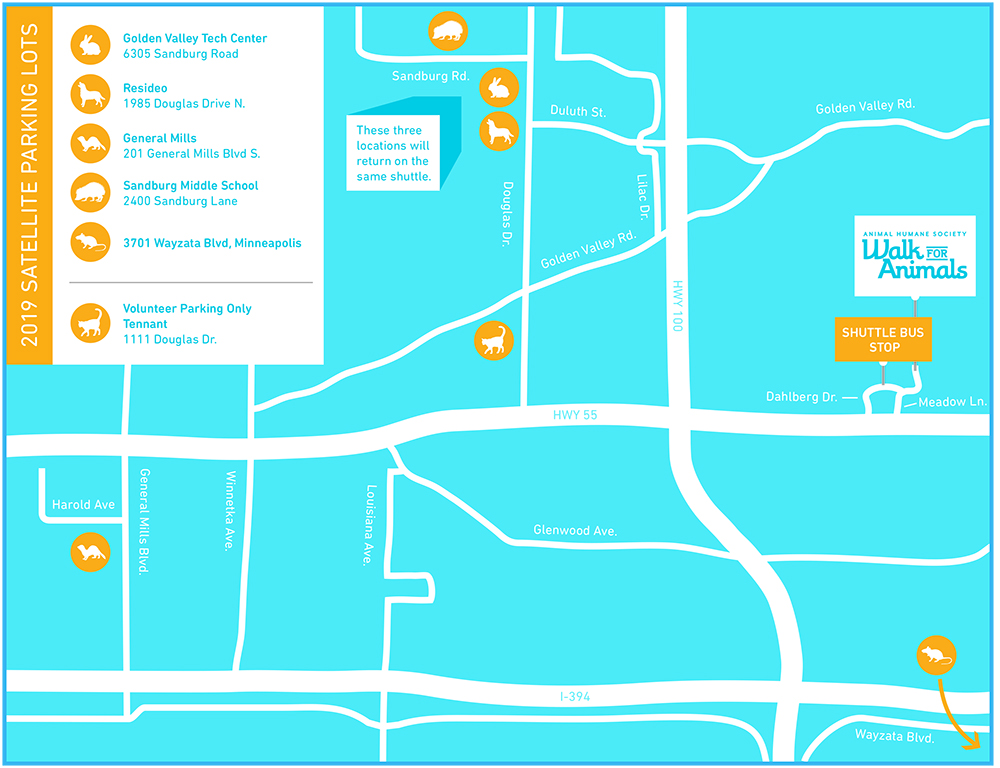 Onsite parking
Walkers with a confirmed fundraising total of $1,000 or more by Thursday, April 30, will receive an email with a link to download their onsite parking pass for Walk day. Please watch for this email from AHS the week of the Walk.
Onsite parking passes may become available for purchase in April. We'll provide additional parking details as we get closer to event day.